Quinta Oazis is managed by the owners, assisted by a team of staff members, who ensure that everything is in perfect condition to receive the guests.
But Quinta Oazis story does not start here…
The property was acquired in 1992 and for many years used as a weekend get away, where family and friends gathered for a cheerful and relaxing outing.
One day, the family decided to exchange the city buzz for the calm and simple atmosphere of the "Oasis" where so many happy moments had been spent.
And slowly an idea started taking shape… why not share that oasis with other people? Why not allow others to experience the peace and tranquility that had always been felt there, over so many weekends?
And that's how over the course of almost 10 years we have been investing… one wall here, another there… until Quinta Oazis became what it is today…
The end result could only be this cozy place that breathes comfort and tranquility, built with much love, where all memories of the joyful experiences of the past still seem to linger in the air.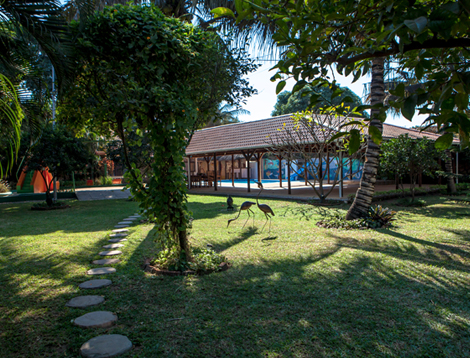 Our ACCOMMODATION
Know the advantages that make us your best choice.
Events
Make your moments unforgettable, come celebrate with us! We have a covered area suitable for any kind of event. We offer:
EVENTS CATERING EQUIPMENT
Crockery, cutlery, glasses, bain-maries, tables, chairs, cooling facilities and BBQ area.
SEATED CAPACITY
Up to 100 people seated.
CHILDREN RECREATIONAL AREA
Children's playground (swings, slide and trampoline)
Area to install a jumping castle
SOME PHOTOS FROM OUR GALLERY
COZY AND RELAXING ENVIRONMENT

" We had used this facility a number of times over the past few years to lodge visiting Ministers, Pastors and Teams. This is a BEAUTIFUL place! Clean, safe, very well situated, easy and safe access, day and night with a lovely breakfast and wonderful hospitality! Many thanks!
- Pastor Andrew – New Life (Mozambique)

" My home from home for over 3 months; Secure & relaxing environment – Spotless accommodation; Ever friendly staff & an excellent breakfast is served;
- Alan K.

" I stayed at Quinta Oasis for 10 weeks and these are the things that I found: The total set-up was great, the rooms, the grounds and the security were so much more than I expected from a place in Mozambique. The people running the place went out of their way to accommodate the fact that I travelled quite a bit and had to leave and return at funny hours. The staffs were great and getting my washing done made my life so much easier, the location was great and close to everywhere. All in all it was the complete experience of staying at Quinta Oasis that I enjoyed, if I come back to Mozambique it will be my first stop.
- Bobby Sharp / Afrox

" With confidence we can recommend Quinta Oasis to friends and business associates! We have used this facility a number of times and have always been impressed with it! What a lovely, clean and quiet place. Safe and an ample parking lot, and AMAZING hospitality PLUS really GREAT prices!
- Wyona Ferreira